One of the most amazing things about the diverse communities of the Washington DC area is the opportunity to find a home that is convenient to your workplace without sacrificing what is most important to you. With so many different neighborhoods offering unique atmospheres and amenities, it's possible to discover a house that lets you easily commute to your job while still letting you enjoy your time away from the office with your favorite activities. 
This is true no matter where your job takes you in the DMV area — but it would be a bit much to tackle all of the DC area at once. So today, we are going to look at some options of where to live if you work in Arlington VA.
Of course, the best way to find the right home for you is to speak with a top-notch real estate agent about your situation and needs — they will put your criteria into the best home search tools to help find the perfect property for you. 
While you wait for your appointment with the agent, however, take a look at some of the condo buildings and neighborhoods below to get inspiration of where to live if your job takes you to Arlington.  
Condominiums on the Orange Line
The Waterview
The Waterview Condominium is aptly named — the gorgeous luxury building sits right on the Potomac River and offers lucky residents amazing views of the river and Washington DC. Conveniently located just 4 minutes away from the Rosslyn Metro Station by foot, the Waterview is a complete package for those who want to work in Arlington without giving up convenient access to the amenities of the DC area.
Key & Nash
This building is a newer addition to the Arlington condominium scene, constructed in 2017. Key & Nash is a 6-story building with a bevy of modern amenities, located just a quick walk from the Rosslyn station and easy access to the Orange and Blue Lines. Key & Nash is ideal for people working in either Arlington VA or Washington DC, as its prime location gives the ultimate convenience to the DMV's commercial heart without sacrificing any modern amenities. 
Gaslight Square
Located between the Rosslyn and Courthouse Metro Stations, Gaslight Square is a fantastic place to live if you are taking a job in Arlington VA. Easy access to two separate metro stops makes commuting by public transit a breeze, and the building's convenient placement on Clarendon Boulevard provides quick access to the rest of Arlington by car. On top of that, Gaslight Square is a gorgeous building that offers outstanding views of the city and floods of natural light in each unit.
Ballston 880
Ballston 880 is a dream for commuters living in Arlington VA. Just a few blocks away from both the Ballston Metro and Virginia Square Metro, this condominium building makes it a breeze to get where you need to go. In addition to convenient metro access, the area surrounding Ballston 880 features great options for getting to work by bike, car, or foot — so you have plenty of different ways to get around Arlington and the surrounding areas.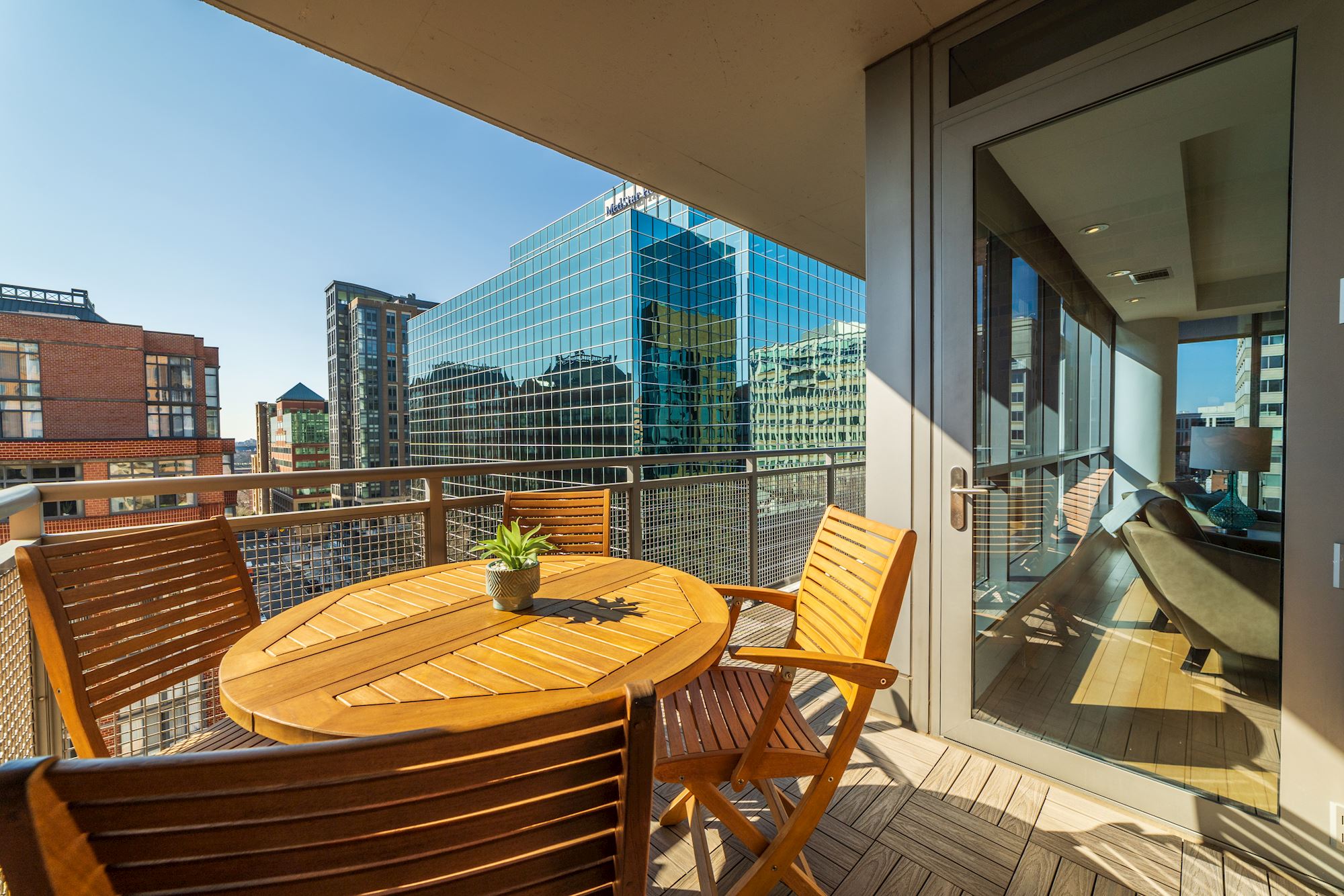 The Continental
Also located in the Ballston neighborhood of Arlington, The Continental at Ballston is a high-rise condo building with some of the best views along the Orange Line. The Continental offers luxury living for those living and working in Arlington, with floor-to-ceiling windows and gourmet kitchens rounding out a package of high-end amenities. Located just steps away from the Ballston Metro and all that the Orange Line offers, the Continental has enough luxury features to make you want to stay home, instead. When you aren't at work or enjoying the day in one of Ballsto's many attractions, you can soak in the sun at the rooftop pool, work up a sweat in the state-of-the-art fitness center, or catch a flick in the communal theatre room. 
Clarendon 1021
True to its name, Clarendon 1021 sits in the heart of the Clarendon neighborhood, just a few blocks away from the Clarendon metro station. The building is a luxury high rise that offers some of the most desirable high-end amenities including a rooftop pool and jacuzzi, hardwood floors and gourmet kitchens in every unit, and convenient concierge services. With Clarendon 1021's beautiful combination of location and luxury, you can enjoy a high standard of living and urban amenities without sacrificing your commute to work in other parts of Arlington. 
The Odyssey
Another great condominium for commuters, The Odyssey stands less than two blocks away from the Courthouse metro station and is also walking distance to the Rosslyn station. If you don't feel like traveling on the train, you can find a treasure trove of retail, entertainment, and dining just around the corner from your home. No matter where your job is located in Arlington, The Odyssey's convenient proximity to public transportation and easy access to important roadways is sure to make your commute a breeze. 
Pentagon City Condos
If you are more interested in living and working on the southern or eastern side of Arlington, there are plenty of options for wonderful condominiums near the Pentagon City neighborhood of Arlington. This area, which sometimes gets blended with the nearby Crystal City neighborhood, is a prime location to purchase real estate at the moment. In the coming years, the advent of Amazon's new HQ2 will almost certainly lead to a rise in what your home is worth, thanks to an influx of tech employees.
For condominiums in Pentagon City, consider checking out Eclipse on Center Park. This two-tower building, which is near the Crystal City metro stop on the Yellow and Blue Lines, offers uncontested views of DC and the Potomac River. Furthermore, the convenient access to public transit, bike paths, and major roadways means that you will be able to get to your workplace with minimal stress or commute time.
Arlington Neighborhoods
If you would like to live near where you work in NoVA but aren't sold on living in a condominium building, have no fear. There are plenty of options out there for single-family homes in the Arlington area, many of which offer a high standard of living without adding excessive time to your daily commute. 
Here are some of the neighborhoods that we recommend you speak to your agent about when looking for homes in Arlington. 
Bluemont
Bluemont is a neighborhood just west of Ballston, bordered on the north by Washington Boulevard and the south by North Carlin Spring Road. Several major roads run near or through Bluemont including Washington Boulevard, Custis Memorial Parkway, and Wilson Boulevard. In addition, the eastern side of the neighborhood is very close to the Ballston metro stop — so no matter how you choose to commute to your workplace, there is an option for you if you live in Bluemont. 
Columbia Pike
Don't get it confused with the major thoroughfare — Columbia Pike is also the name of a beautiful corridor stretching from Arlington cemetery in the east to the border of Fairfax County in the west. This neighborhood is contained by 4 major roadways: Arlington Boulevard to the north, S. Washington Boulevard to the east, Columbia Pike to the south, and Leesburg Pike to the west.
Due to the proximity to these important roadways, the Columbia Pike neighborhood is a great place to live if you are working in Arlington. On top of the convenient access to transit options, the area also offers great opportunities for entertainment and dining. Columbia Pike features a wide variety of cuisines to sample and enjoy.
Cherrydale
For people who want to live in Northern Arlington, there are few options more appealing than Cherrydale. The neighborhood is home to quiet streets and gorgeous foliage that enhance the charming character of the well-kept homes. Cherrydale is intersected by two major roads: Custis Memorial Parkway and Old Dominion Drive. Residents can use these thoroughfares to easily reach their workplace in Arlington — and when you get off work, you can enjoy the quiet beauty that permeates the gorgeous neighborhood.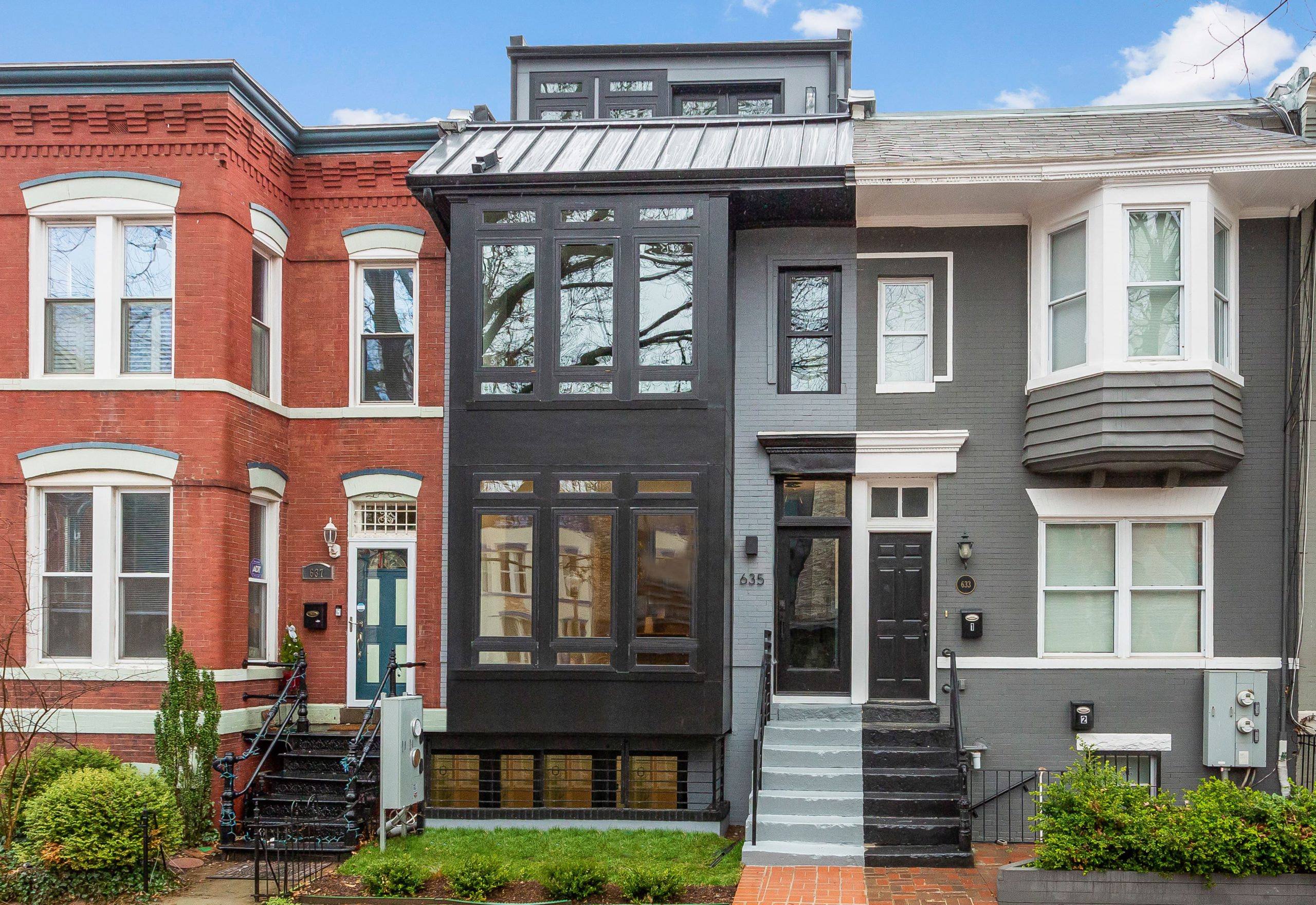 Washington DC
Of course, you don't have to live in Arlington if you plan to work there. Many of Arlington's workers reside across the Potomac in Washington DC. Living in Washington DC gives easier access to the unique entertainment and restaurant options that dot DC including sporting events, free museums, and live performances. 
In addition, metro stops tend to be more plentiful and concentrated within DC, meaning it is easier to travel to and from work via public transit options. This can be a great boon to people who choose to work in Northern Virginia and live in the District. 
When you are looking at the hottest neighborhoods in Washington DC, consider focusing your attention on the Northwest and Southwest quadrants. These sectors, which are closer to Arlington than the more eastern areas, will likely cut down on your transit time and make commuting to work a much easier prospect. 
Alexandria VA
Similarly, living in Alexandria VA is a popular option for those who are employed in Arlington. This is especially true for those working in southern or eastern Arlington, closer to where the two cities meet. 
There are many amazing condos in Alexandria VA for sale — and with the upcoming addition of Amazon's HQ2 project, home values are likely going to rise in the near future. So for people interested in purchasing property in Alexandria, now might be the perfect time to invest in real estate. In a few years, your home could be worth far more than you would expect!
Fairfax VA
Fairfax County, VA is a popular residential option for people working in both Arlington and Washington DC. Located primarily to the west of Arlington and Alexandria, Fairfax encompasses many popular communities in the suburban DC area. On top of relatively lax commute times into Arlington proper, Fairfax also features a wide selection of entertainment and restaurant options — so no matter what you do for fun, you can find a way to explore your interests while living in Fairfax!
No matter which community catches your eye, the most important step to finding your next home is to work with a real estate team that specializes in the area! A high-quality agent will be able to help you find the right home quicker, cheaper, and with less stress — which is especially vital when buying in a seller's market like the DC area! 
At the Keri Shull Team, we focus on a unique strategy of helping you find off-market homes. These are properties that have not yet gone live on the MLS; by helping you put a compelling offer on one of these off-market homes, we can help you avoid costly bidding wars and get into your next home faster and cheaper. This strategy has helped us become the top-selling team in the entire Washington DC area — and we want to help you, too!
If you want to learn more about how our Home Search Experts can help you find and win the right home — in the right neighborhood — then contact the Keri Shull Team today! Our team is standing by to help you, so just click here and schedule a time to meet with us!